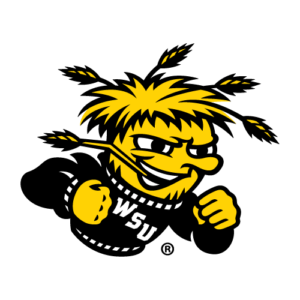 Welcome, Shockers! Below you'll find useful resources for practice. I may have mentioned these in the masterclass.
Basic Practice Rhythms for Practice
Sheet music for students in the class: Bruch | Barber
Strings Methods Class
Thank you for being part of this "pop-up" string methods class. Here are some tips regarding using and teaching a bow hold.
Week 4: Bow Hold (continued)
Welcome, String Methods Students! This material is to give you more resources to improve your bow holds on the various string instruments.
The right hand is responsible for bowing (as is true for all stringed instruments). This can involve dynamic changes (like crescendo or diminuendo) or it can involve manual dexterity. A successful right-hand technique starts with holding the bow in the proper way.
Violin/Viola
How to hold the violin or viola
Bow grip video by Sassmanshaus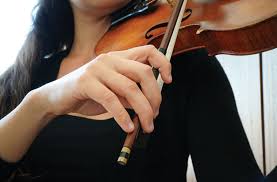 Cello
Article: the cello bow hold
Video: The bow is a ship with a crew by Paul Katz (Notice the use of imagery)
Notice that the change in the hold when you approach the tip. Below are images of the great cellists Jacqueline Du Pre and Pablo Casals.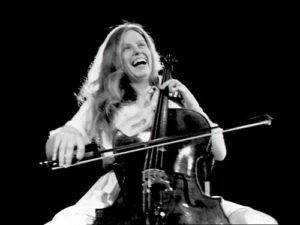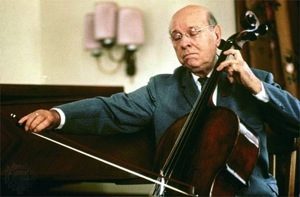 Bass
German or French bow grip article
Bow Hold Teaching Tips

Use baby steps, scaffold skills one small step at a time
With children, use a lot of creative imagery: a floppy-eared rabbit eating a carrot, sleepy coyote, log-chewing beaver, kissy fish, captain on the ship, etc.
Have the student form the correct grip first without the bow so they have the concept of what it should look like. You can use a pencil or dowel to start (see page 11 of your sound innovations book).
Remember that in classroom teaching, you may only have a few seconds to adjust and instruct individual students as you roam the class. Keep comments concise and positive; emphasize that the student want to relax and feel natural, you want the students to know what you want but also have fun!
Other useful files
How to make a pinky house (this helps beginners put their little finger in the correct violin/viola bow position)
Bow hold troubleshooting
Little finger too straight or tense (violin/viola): "Pinky nest" for violin and viola, and "Spider" exercise.
Thumb is overextended and too straight: ask students to place the bow deeper in their hand (cover more of the frog with the middle fingers) and bring the bow closer to their palm.
Crooked bow: Keep the bow straight with a tube or straw, practice against the wall. Practice bow motion by running the bow hand on the opposite arm.
Fingers too squished together: without the bow, extend and release finger spread. Find a neutral position.
Fingers too spread apart: without the bow, gently close hands and let them naturally fall open to a neutral position.