College:
Students have been accepted and admitted to UC Berkeley, USC, and Stanford, among others, and used music as a pivotal part to supplement their application.
Competition:
I have had students win prizes in international competition with performance in Carnegie Hall:
Jonathan L. 11-15 age category; 2015,
Mario R. 15-18 age category; 2016,
Nelson K. 11-15 age category; 2017, plus Honorable Mention in Piano (dual recital in piano and violin)
Zach C, 11-15; 2017, Honorable Mention
Students have participated in the following youth orchestras:
SJYS – San Jose Youth Symphony
Skyler L. – solo competition winner and soloist
Sid N. – solo competition winner and soloist.
Leadership: Gaby, Principal 2nd violin,  Jessica L, Assistant Concertmaster (Intermezzo).
CYS – California Youth Symphony
CPYO – California Philharmonic Youth Orchestra
Leadership: Assistant Principal – Jessica Y.
ECYS – El Camino Youth Symphony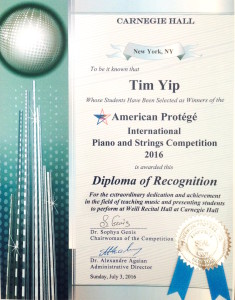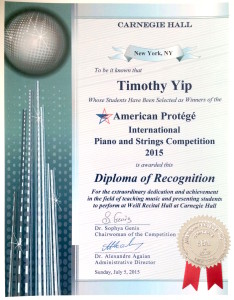 Diploma of Recognition from the American Protege International Piano and Strings Competition