College:
Students have been accepted and admitted to UC Berkeley, USC, and Stanford, among others, and used music as a pivotal part to supplement their application.
Competition:
I have had over seven students win prizes in international competition American Protege with performance in Carnegie Hall in 2015, 2016, 2017, and 2018. Winners of 2nd, 3rd prizes and Honorable Mention.
Students have participated in the following youth orchestras:
SJYS – San Jose Youth Symphony
Skyler L. – solo competition winner and soloist
Sid N. – solo competition winner and soloist.
Leadership: Gaby, Principal 2nd violin,  Jessica L, Assistant Concertmaster (Intermezzo).
CYS – California Youth Symphony
CPYO – California Philharmonic Youth Orchestra
Leadership: Assistant Principal – Jessica Y.
ECYS – El Camino Youth Symphony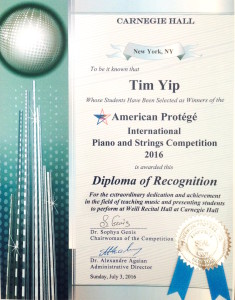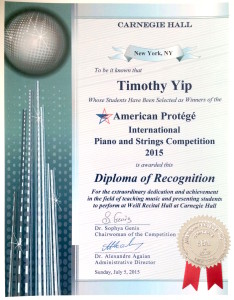 Diploma of Recognition from the American Protege International Piano and Strings Competition