College:
Students have been accepted and admitted to New England Conservatory, UCLA, USC, UC Berkeley, MIT, Caltech, and Stanford, among others, and used music as a pivotal part to supplement their application.
Competition:
I have had over ten students win prizes in international competition American Protege with performance in Carnegie Hall, with achievements spanning every year since 2015; Winners of 2nd, 3rd prizes and Honorable Mention.
Students have participated in the following youth orchestras:
SJYS – San Jose Youth Symphony
Skyler L. – solo competition 1st place winner and soloist
Sid N. – solo competition 3rd place winner and soloist.
Leadership: Gaby, Principal 2nd violin,  Jessica L, Assistant Concertmaster (Intermezzo).
CPYO – California Philharmonic Youth Orchestra
Leadership: Assistant Principal – Jessica Y.
Silicon Valley Youth Music Competition
Matthew L. Solo competition, 2nd Place winner
CYS – California Youth Symphony
ECYS – El Camino Youth Symphony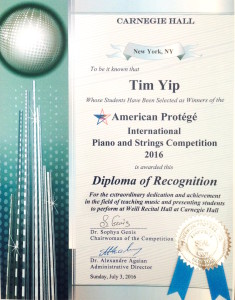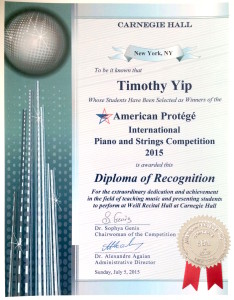 Diploma of Recognition from the American Protege International Piano and Strings Competition

Student Success / What others have said of Tim:
"Mr. Yip is one of those rare teachers who do so much more than just teach music. He is constantly looking for ways to help his students improve—for instance, when I was struggling with finding a comfortable violin posture, Mr. Yip would, between classes and on his own time, read extensively on how to improve my posture so he could discuss what he found with me in following classes. Mr. Yip takes a genuine and personal interest in each of his students, and I can say that I found a friend as well as a teacher in him. Through his teachings, Mr. Yip has kindled in me a deep love for music that I doubt can ever be lost." – Jonathan
"Mr. Yip is an incredibly patient and inspiring music mentor. His calm demeanor and methodical approach helped me overcome the intimidation of new challenges and obstacles. Because he really took time to understand me as an individual, we were able to communicate with ease and efficacy. Mr Yip also goes the extra mile to teach beyond the sheet music, which fostered a wholesome appreciation for the intricacies and beauty of music within me." – Abbey
"Studying violin under the guidance of Mr. Yip has not only instilled in me a love for music but also a sense of dedication and constant improvement. Mr. Yip's patience and commitment to excellence helped me steadily improve as a player, advancing my position in my youth symphony and winning a competition to perform a solo piece in Carnegie Hall. Not only did Mr. Yip help me improve as a violinist, he also found great summer opportunities and internships for me to pursue my interest in programming. Mr. Yip is a great teacher and caring individual, and I am sincerely grateful to him for all he has done."- Mario