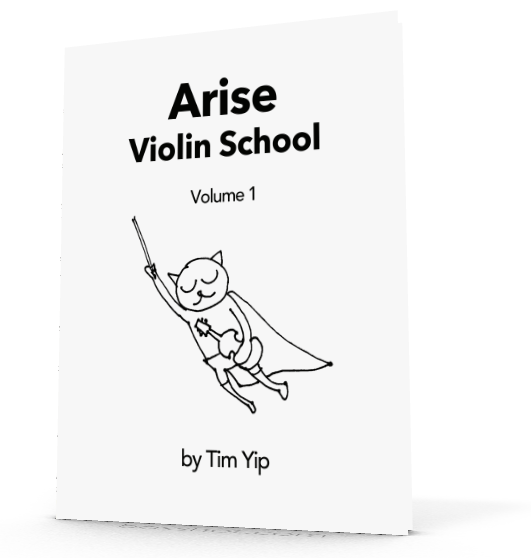 This innovative and exciting method book is written for young students ages. Arise Violin School® captures the child's playful spirit. Fun-filled songs and technique exercises develop beginning violin skills.
Book 1, which is suitable for "Pre-twinkle" level players through Suzuki level 1 players. It is oriented to beginner players ages 4-6.
This book uses short, fun pieces that help to keep youngsters interested and motivated to learn music!
Digital Pdf: $8.00, (coming soon!)
Why Use?
1. Approach to Reading
Every teacher has experienced the frustration of students who have difficulty reading music. Have you heard students routinely ask, "What note is this? What string do I play on?"
Perhaps you've heard a concerned parent remark, "But she still doesn't know her notes!" In this method, note ready in encouraged with from an early stage.
Arise Violin School has established the new model for violin methods with its composite approach to note reading. The ability to read music is developed by effectively integrating three skills: 1) note name recognition, 2) reading intervals, and 3) Use of scales to understand keys. These are carefully sequenced and reinforced to ensure success.
2. Student Appeal
Students are attracted to the pieces and sounds of Arise Violin School pieces. These songs have been tested for student enthusiasm.
3. Violinistic Music
A hallmark of the books is violinist arranging. The music is specifically written (or arranged) for the violin. They feel and sound right on the violin.
A Word from the Author
Dear Friends,
I'm delighted to share with you Arise Violin School and we appreciate your interest in this new violin curriculum for young ages.
With youngsters, violin teaching becomes an adventure for both the child and the teacher. We've set aside our seriousness and inhibitions to join the child's world in a playful exploration of music and the violin. Through imagery, metaphor, and a diverse world of sound, we seek to develop a foundation of aural perception, eye tracking, and physical coordination. There is special opportunity to develop perceptual ability at a young age. Skills unfold while we engage the child's inherent love of music.
Many thanks for your ongoing musical support! Please keep me posted on your results. Your letters and emails are always welcome.
With all best wishes,
Tim Yip